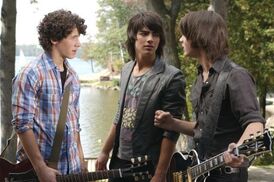 The Jonas Brothers are an American boy band. Formed in 2005, they have gained popularity from the Disney Channel children's television network and consists of three brothers from the shore region of New Jersey; Paul Kevin Jonas II, Joseph Adam Jonas and Nicholas Jerry Jonas. In the summer of 2008 they starred in the Disney Channel Original Movies Camp Rock and its sequel, Camp Rock 2: The Final Jam. The band has released four albums: It's About Time, Jonas Brothers, A Little Bit Longer, and Lines, Vines and Trying Times. In 2008, the group was nominated for the Best New Artist award at the 51st Grammy Awards and won the award for Breakthrough Artist at the American Music Awards. In May 2009, before the release of Lines, Vines and Trying Times, they have sold over eight million albums worldwide. The Jonas Brothers' fourth studio album, Lines, Vines and Trying Times, was released in the United States in June, 2009.
On May 1, 2012, it was announced that after 6 years with Hollywood Records, the Jonas Brothers had parted ways with their label. The band has bought back the rights to their master recordings, merchandising, and publishing, and plans to release their upcoming fifth album with a new label.
Ad blocker interference detected!
Wikia is a free-to-use site that makes money from advertising. We have a modified experience for viewers using ad blockers

Wikia is not accessible if you've made further modifications. Remove the custom ad blocker rule(s) and the page will load as expected.