Anna Maria Perez de Tagle
Name
Anna Maria Perez de Tagle
Birthplace
California, USA
Date of Birth
December 23, 1990
Role on Camp Rock
Ella Pador
IMDB
Anna on IMDb
Anna Maria Francesca Enriquez Perez de Taglé (born December 23, 1990) is an American actress, model, and singer. She is known for her role as Ashley Dewitt on Hannah Montana and Ella Pador on Camp Rock. She also played Miracle Ross on Cake T.V., and was recently in the 2009 film Fame, whom she starred as Joy Moy.
Personal life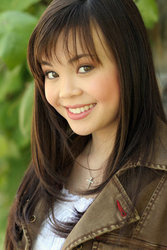 Perez de Taglé was born in San Francisco, California. She comes from a Filipino family with an entertainment background. She is the daughter of Archie Perez de Taglé, a former TV personality, granddaughter of 1950s Philippine actress Sylvia La Torre, and niece of former child star Che-Che Perez de Taglé. She grew up in Santa Clara, California. Her family lives in San Gabriel, California, with mother Evelyn Enriquez and two older brothers, Juan Miguel and Jose.
Career
Perez de Taglé's first major role was as Ashley on the Disney Channel show Hannah Montana. In 2008, Perez de Taglé starred in the Disney Channel Original Movie, Camp Rock as Ella Pador. In a bonus feature on the Camp Rock DVD, Perez de Taglé mentions that she would like to expand her singing career as her grandmother, Sylvia La Torre, is a famous Filipino singer. Perez de Taglé also starred in the movie Fame which was released in movie theatres on September 25, 2009. She also starred in the music video Remember December by Demi Lovato, along side Meaghan Jette Martin who also stars as Tess Tyler in Disney Channel original movie Camp Rock. Before she started auditioning for television and movies, she was in the Children's Musical Theatre of San Jose (CMTSJ). She starred as Glinda in The Wiz.
Filmography
Year
Title
Role
Notes
2010
Camp Rock 2: The Final Jam
Ella Pador
Disney Channel Original Movie (post production)
2009
Fame
Joy Moy
Main role
2008
Higglytown Heroes
Safety Patrol Member Hero
1 episode (Voice)
Camp Rock
Ella Pador
Disney Channel Original Movie
2007
Just Jordan
Veronica
Episode: "Slippery When Wet"
2006
Hannah Montana
Ashley Dewitt
2006–present (recurring role)
Cake
Miracle Ross
2006 (regular role)
2005
Bee Season
Bee Season #1
External links